THE WANDERERS SPORTS MEDICAL CENTRE
Enhance your athletic performance
The Wanderers Sports Medical Centre (WSMC) is a comprehensive sports medicine hub housing top medical professionals that serve the needs of the Gauteng sporting community. The centre is housed at Wanderers Stadium in Johannesburg where professional, amateur and school athletes from all sporting disciplines have access to top exercise facilities and a range of medical services.
ELITE FUNCTIONAL CONDITIONING CENTRE
The gym for sportsmen and women
Want to enhance your sports performance through focused training? Then the Elite Functional & Conditioning Centre at WSMC is the place for you. More than just a regular gym, our facility offers the latest exercise equipment and expert personal trainers to help you achieve your high performance fitness goals.
THE CENTRE AND ORIGIN FITNESS
The Elite Functional & Conditioning Centre is operated by Origin Fitness – South Africa's leading functional equipment supplier.
The aim of the centre is to create holistic athletes in a functional manner. Thus, we provide the best possible environment for sports people to thrive and be rehabilitated and pre-habilitated by our physiotherapists, biokineticists and strength & conditioning coaches.
There is simply no better medical facility in Johannesburg that offers the same fully-equipped, state-of-the-art functional gym you'll find at WSMC.
Head-to-toe medical care for top athletes
The Wanderers Sports Medical Centre is home to a range of medical professionals who specialise in athlete conditioning and testing, as well as the diagnosis and treatment of sport-related injuries.
We identified a massive gap in physiological wellbeing and healthcare between the professional sporting set-ups e.g. the Highveld Lions and the junior/school high performance teams. For those without access to professional help, this translates into a lack of immediate healthcare or worse, misdiagnoses of sports injuries.
The WSMC offers a holistic approach that's needed to develop all round sporting individuals. This means that athletes will be able to receive a variety of assessments and treatments.
Medical screening from Sports Physicians
Musculoskeletal assessments, treatment and rehabilitation protocols from Physiotherapists
Assessments and treatments from Homeopaths and Chiropractors
Strength and conditioning from Personal Trainers
End-phase rehabilitation from Biokineticists
Visual assessment and training from the Sports Vision Optometrists
Nutritional education from Dieticians
Performance enhancement from Clinical Sports Psychologists
Foot health and assessments from Podiatrists
Bracing from Orthotists and Prothetists
Remedial Soft Tissue Massage/Sports Massage from Massage Therapists
The WSMCs core value is to promote individualised care. Any athlete who enters the centre is seen as the most important individual in the eyes of the practitioner. WSMC is a community-based centre that opens its doors to any individual who seeks the best medical assistance possible.
Craig Govender
Director
A world-class institution that strives to give the working class a true professional experience.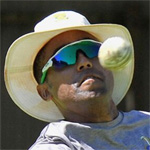 Dane Piedt
Cobras Captain & Proteas Off Spinner
WSMC bases itself on the pillars of: Humility, Hard-work, Teamwork, Communication & Professionalism. Our Vision is to create sustainability, enhance the knowledge of coaches and athletes in all spheres of sport, create a sustainable screening and monitoring system for school kids, enhance long term athletic development and produce well rounded athletes for Gauteng, other provinces and South Africa.
Craig Govender
Director